The YMCA ReBuild journey
For young people to change, they must feel safe and supported. That's why YMCA ReBuild starts working with participants while they are in custody and continues to support them after their release.
This continual model of care makes YMCA ReBuild different from other employment pathway programs. It also means participants are more likely to gain and maintain employment and break the cycle of reoffending.
As a social enterprise, YMCA ReBuild focuses on:
training and support in Ravenhall Correctional Centre: teaching young people (28 years and under) construction and employability skills while they are in custody;
employment upon release: providing employment opportunities to former young offenders once they are released from custody;
commercial construction services: our crews offer commercial construction services to businesses to fulfill their social procurement objectives.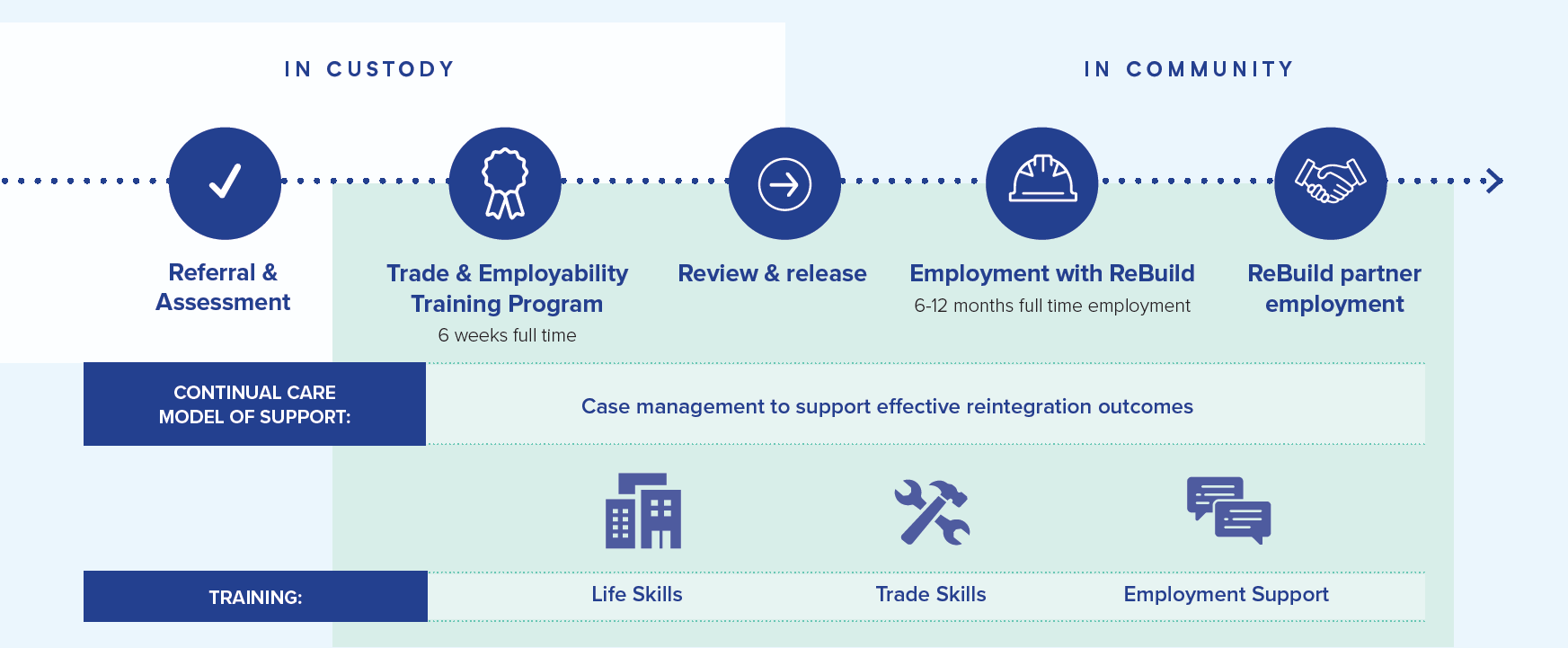 Training at Ravenhall Correctional Centre
YMCA ReBuild run a correctional training program in a dedicated workshop at Ravenhall Correctional Centre. YMCA ReBuild starts working with participants while they are serving their custodial sentences, teaching practical trade skills. This includes crafting handmade woodwork pieces such as chopping boards, chess sets and furniture. These items are available to buy online at the YMCA ReBuild shop.
The set up of our training program mirrors the real-world workplace. Participants communicate with the program facilitators as their employer and treat one another as teammates. This helps participants adjust to the demands and routine of work. It also helps them learn important employability skills like teamwork, communication and punctuality. By completing the program, participants are well-prepared for future employment.
Employment upon release
Upon release, participants have the opportunity to be hired directly by the YMCA ReBuild social enterprise as a crew member.
Work placements within YMCA ReBuild typically last for six to 12 months depending on the young person's needs and circumstances. When ready, YMCA ReBuild supports their next move of employment. This could be through placement with a business partner or to progress within YMCA ReBuild as a crew leader.
Our services
YMCA ReBuild crews offer a range of commercial construction services, including:
landscape construction;
landscape maintenance;
painting;
line marking;
carpentry;
minor building works;
relocations;
de-fit / fit-out;
hoarding / temporary fencing;
covered walkways;
concreting;
excavation and earthworks;
lot clearing;
manufacturing and furniture restoration.
Learn more about some of the major projects YMCA ReBuild has been involved in, as well our contract business partners.
Can YMCA ReBuild support my business's social procurement commitments?

Yes, YMCA ReBuild is certified by Social Traders and can help you and your business reach your social impact objectives.

Find out more about engaging with YMCA ReBuild to meet your social procurement goals.

What standards are YMCA ReBuild compliant with?

YMCA ReBuild engages in robust risk management at each stage of project delivery. This ensures that we provide services in a timely and professional manner.

To protect the wellbeing of our crews, YMCA Rebuild also engages in safe work practices and is compliant with occupational health and safety standards.

YMCA ReBuild is compliant with:

Certificate of Currency Workcover 2021;
Industrial Special Risks Certificate of Currency 2021;
HSE903-G Environmental Policy;
Labour Hire License Victoria;
YMCA CoC $20M Public Liability & Professional Liability;
YMCA CoC $20M Public Liability & Products Liability;
YMCA CoC Motor Vehicle.

Are your services environmentally sustainable?

YMCA ReBuild carries out all work with environmental sustainability at the forefront. Environmental outcomes include:

clean technologies;
diverted landfill;
e-water systems;
low hazard chemicals and materials;
reclaiming timber;
recycling;
waste handling.
Cameron's journey with YMCA ReBuild
You might also be interested in